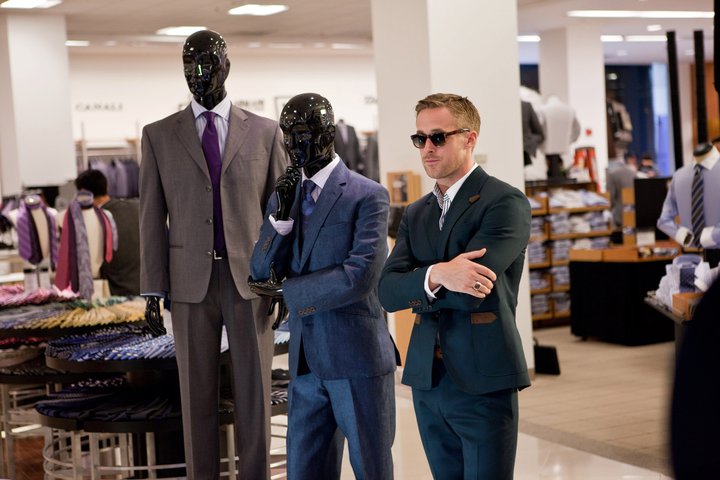 Three Ways to Look More Like Ryan Gosling: Suits from Crazy, Stupid, Love.
Crazy, Stupid, Love.
Romantic Comedy? Yes. Chick Flick? Certainly.
But if you're anything like us, you found yourself nodding along and fighting the urge to high-five your TV as Ryan Gosling's character, Jacob, took Cal Weaver, played by the ever-hilarious Steve Carrell, through his first menswear makeover.
Jacob has the kind of look we like at Astor & Black. Confident. Tailored. Unapologetic. The guy can dress, and he knows it. Kudos to the costume designer; Gosling looked incredible in every suit they put him in.
This burgundy suit is perfection. We have a similar fabric in our Spring/Summer Look Book (KT-115654-160n), and it's absolutely stunning in person.
Do you know what goes together better than a peak lapel and a wide chalkstripe? Nothing. Get this look in charcoal (KT-2306-135N), black (KT-2308-135N), or navy (KT-2308-135N).
Custom suits are about great fabric and impeccable fit–certainly. However, the details are what sets us apart. The hunting-jacket inspired details seen here are favored among many Astor & Black clients, including NBA star Dahntay Jones. For this look, ask your professional clothier to show you LP 71208PL, a gorgeous navy fabric with a subtle plaid pattern from the Tasmanian collection by Loro Piana. A clothier can walk you through the numerous combinations of details you can do on your collar and cuffs.
Click here to contact an Astor & Black Professional Clothier today!
All photos belong to Crazy, Stupid, Love.